Restaurant Valet Service Boston MA
When your diners are deciding where they want to go for dinner or drinks on the weekend, does parking ever come into play? Parking in Downtown Boston on the weekends can be a complete nightmare and can stop patrons from dining with you just due to the hassle of parking.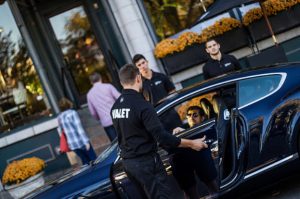 Diners want to experience a no stress, easy way to park along with great food when coming out to dine. Which is why we are here!!! Valet parking on Friday and Saturday nights can increase sales by 10 times.
Are you a restaurant that has private functions or parties? Why not make it easy for your guests to arrive and parked safe and securely without the added headache of searching the streets for a free space to park? Give us a call and Infinity Valet will handle all your restaurants parking needs.
More and more restaurants are providing their customers with valet parking as a complimentary bonus to the dining experience. They understand that this dining experience begins before patrons enter their restaurant.
We also understand and treat each customer with the same excellent front door service. Here are just a few advantages of using Infinity Valet Services to provide restaurant valet parking at your place of business:
Valet Parking Adds Prestige
Helps keep your restaurant customers on schedule
Improves the flow of traffic
Allows customers to arrive without delay
Provides the utmost safety for your customer's vehicles
Maximizes cars, spaces and parking area – as your restaurant grows, valet parking will solve parking problems
Contact us today to find out more about our Restaurant Valet Parking Service in Boston. Benefit from our extensive experience in the parking industry at your facility. Contact us to request a proposal or if you have questions about your parking needs.
Contact us here Infinity Valet or feel free to Call (774) 922-4705 Now
Read More